The Catskill Choral Society will hold auditions for new singers who wish to join the group on Thursday, August 29, from 5pm to 6:30pm, at the United Universalist Society at 12 Ford Avenue, prior to the group's first rehearsal.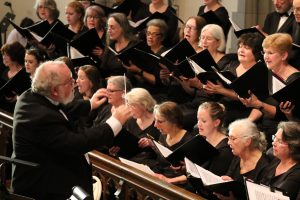 Singers for all voice parts are encouraged and welcome. Sight reading is not required, but prior choral singing experience
is desirable. To make an appointment call the Choral Society hotline at 607 431 6060, option 2.
Regular rehearsals are held weekly on Thursdays from 7-9:30 pm. This fall the group will perform on Friday and Saturday, December 6 and 7. The music program being prepared will be Christmas Songs throughout the Ages , under the direction of G. Roberts Kolb.
The Catskill Choral Society was formed in 1970 and performs two choral concerts yearly. For more information on the organization, visit the website at catskillchoralsociety.com.
For further information contact Chris Shields 607 434 7008.